Arms Race
and other stories
Shortlisted for the 2015 Queensland Literary Awards Steeele Rudd Award and the 2015 Readings Prize for New Fiction, a Listener Best Book of 2014, and an Australian Book Review Short Story Book of the Year 2014.
Arms Race brings together twelve tales from the modern age of escalation. Data theft, internet memes, advertising, terrorism, indigenous sovereignty, drone warfare, opium addiction, syphilis, the moon landing, mining, oil slicks, climate change, giant octopuses: nothing is spared in this collection. Nic Low's stories go beyond satire, aiming for the dark heart of our obsession with technology, power and image.
Set variously in London, a Rajasthani village, remote Mongolia, the West Australian outback and mountainous New Zealand, these are prescient visions of the future and outlandish reimaginings of the past. Arms Race is an arresting debut from a fierce, playful new voice in Australian writing.
Nic Low's stories are like controlled detonations. Arms Race is machete-sharp, politically engaged and thematically fearless. Australian short fiction just got lobbed into the 21st Century

- Maxine Beneba Clarke, author of Foreign Soil
'Outrageous, clever, passionate: a must read. These stories delight on so many levels and are written with a singular energy and skill.

- Eva Hornung, author of Dog Boy
ARMS RACE REVIEWS
"[Low's] writing is fierce and uncompromising, bringing contemporary anxieties to ­the surface … This collection fights and grapples with language, counter-culture and consumerism, the characters inhabiting a plastic-elastic world being reshaped in the mould of whoever gets to the gold first: the digital landscape isn't where we're heading; it's right now. As Low careers from a giant octopus tidal wave in New Zealand to a photocopying room the size of a desert in India, he's heralding a planet on the tip of catastrophe wherever he turns. It's seductive and frightening …" – The Weekend Australian
"There's a bristling, playful energy to Nic Low's writing…the narrative fairly pulses along at a cracking pace … standout satire" – Sydney Morning Herald"
"A terrific book; an amazing debut … activist literature, confronting us and getting us to think about our present. Frightening and compelling at the same time." – Radio New Zealand National
"brazenly funny … [Nic Low's] voice is natural and bitterly compelling. He never attempts to soothe us with easy answers, but instead enjoys posing difficult questions. If some of these tales might darken your mood, most of them will excite your imagination and alter your perception of the world." – The Thousands
"Arms Race highlights a remarkable depth of voice and narrative range. My favourite from the collection is ʻRush', a humorous and intelligent insight into post-colonial relationships in Australia. Low is from New Zealand. We might want to claim him ahead of Russell Crowe." – Tony Birch, Australian Book Review, Short Story Books of the Year 2014.
"Nic Low's Arms Race is similarly mischievous, although while Davis's stories are claustrophobically focused on the personal, Low targets the political. He provokes his readers with visions of speculative futures that are always about the present. What would it be like if indigenous Australians started a mining operation at the Shrine of Remembrance?" – Maria Takolander, Australian Book Review, Short Story Books of the Year 2014.
"Arms Race is wryly amusing, thematically fearless, and has left me hopeful and excited for the future of Australian short fiction." – Maxine Beneba Clarke, Australian Book Review, Short Story Books of the Year 2014.
"Characters on the verge of a breakthrough populate this impressive début short story collection … Low's stories cover an ambitious range of locations from Melbourne to Mongolia; his prose is energetic and inspired … Low deals with issues of real moral substance: the effects of mining, global warming, drone strikes. He has a knack of approaching these sobering subjects with humour and whimsy. His characters can laugh, even in the face of their demise … Low's stories prompt us to re-examine urgent questions about the way we live our lives." – Australian Book Review
"… there's a bony grace to the prose that makes the best of these short stories surprising … especially in opium fever-dream The Lotus Eaters, spare and insightful outback tale Scar, and Photocopy Planet, a canny interrogation of the appeal of self-generated alternative histories, set in rural India but relevant everywhere. Low has a strong environmental conscience and a darkly satirical streak, probing the faultlines between cultures, classes and ideologies with great skill, sending back dispatches as dry as Sahara sand." – Your Weekend, NZ.
"Low's collection of short stories spans the globe, tracing lines of warfare, surveillance and oppression with fierce wit and masterful story telling … the mix of humour and rebellion rings throughout a collection with a keen eye on the greater powers and narratives that shape us … Arms Race is cat-nip for cynics and a joy to read." – NZ Lit Lovers
Arms Race is the most fun I've had in a long time." – Readings
"… tales that explore the dark psyche of human nature in an often playful and hilarious fashion … rewards being dipped into with fine writing and arresting images." – The Hoopla
TV AND RADIO
Melbourne Writer Nic Low Hasn't Forgotten His Roots: Nic interviewed on TV3's Firstline, 26 August 2014.
Politics, polemics and satire: interview with Nic on Radio New Zealand National's Nine to Noon program, 22 August 2014.
Arms Race: interview with Nic on RDU 98.5FM's Morning Glory Show, 28 August 2014.
3CR Podcast: Behind the Words interview about Arms Race (starting from 13:25).
2SER's Final Draft podcast: Arms Race and Nic Low on Telling Tales.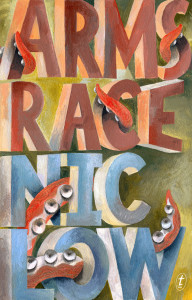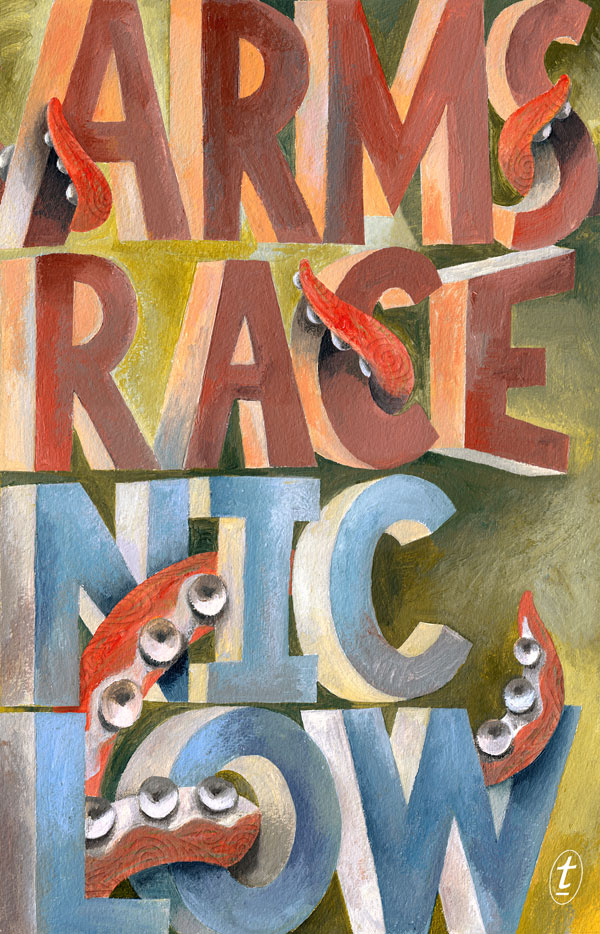 Published: 23/07/2014
Format: Paperback, 256 pages
RRP: $27.99
ISBN-13: 9781922147981
ISBN-10: 1922147982
Publisher: Text Publishing