National Young Writers' Festival 2007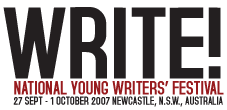 In 2007 and 2008 I had the pleasure and privilege of co-directing the Australian National Young Writers Festival, the country's biggest, rowdiest and most rigorous meeting of young, emerging and experimental literary minds. The NYWF takes place as part of the This Is Not Art (TiNA) festival, which adds independent musicians, journalists, artists, performers, activists, nerds and lovers-of-ginger-beer to the mix. It's a combination of cutting-edge performances, panels, collaborations, experiments, workshops and parties. It's unique because it's aimed at an audience of creative practitioners, and not passive consumers. There are no spectators, with thousands of people making the pilgrimage from all over Australia for a five-day creative bender. Most of the guests and audience are in the 20-35 age bracket; far from the seas of white hair, book signings and celebrity author worship you might expect, the NYWF is a DIY, hands-on conversation between equals.
The NYWF in 2007 featured 95 events and 230 guests, among them novelist Alice Pung, graphic novelist Shaun Tan, journalist and writer Anna Funder, freelance guru Anna Krien, Melbourne's brilliant Black Lung Theatre, Sydney's Brown Council and Post, Charles Firth from The Chaser, award-winning indigenous Darwin artist Chayni Henry, Adelaide columnist Clementine Ford, playwright David Mence, Young Novelist of the Year, Tasmanian Danielle Wood, Puberty Blues author Gabrielle Carey, senior Australian historian Henry Reynolds, blockbuster writer James Phelan, poet Judith Beverage, Brisbane artist Krista Berga, poet Sam Wagan Watson, and hundreds more.
It was a huge job curating this many artists and projects, but the results were utterly worth it. We explored the politics of telling other people's stories, ran a literary journalism boot camp, put senior journalists in a room with the anarchist activists they write about in their papers, ran a huge DIY academy and NYWF 101 workshop series to get people making and doing on the spot, hooked up with international literary artists via video link, put on plays in local cafes, threw a massive balkan gypsy wedding party, read steamy late-night erotica, staged the country's biggest independent press and zine fair, exhibited graphic art and comics from all over the country, and helped people stop writing their first novel.
Link: full NYWF 2007 program
Link: fully NYWF 2007 artist list
Some highlights from our 2007 program were:
Shaun Tan Masterclass: so well attended we had to change the venue and format to allow everyone access. Shaun presented on his creative process in conversation with Nicki Greenberg, the ethics and politics of representation in his work (Untold Stories), and spent the rest of the weekend hanging out with audiences and working on a series of collaborative panels with other artists upstairs in the Festival Club.
Smarter than your Average Bogan: White trash is the new black. From cashed-up bogans to Howard's battlers, everyone wants a bit of bogue up 'em. Join some of Australia's most articulate white-trash they discuss stubbies, alcoholism, sluts, unions and other finer points of bogan culture. This one involved drinking UDLs, flashing tits, and a hugely heated discussion of class, pretention and self-image in Australian writing. Unlike anything she'd ever seen at a writers' festival, Anna Funder wrote a great column about it in The Monthly.
Speechless: Spoken word gets mashed with sound and lights at the NYWF cross-platform performance showcase. From cross-dressing sound poetry bunnies to full-frontal audience intimidation, join Australia's most innovative show-offs as they push the boundaries of what can be done with a microphone. Sam Wagan Watson and rising NT star Leah Flannigan got things going with intimate poetry and song, while Perth's Tomas Ford tried to literally make love to the audience.
Independent Press and Zine Fair: Bring your wallet, your picnic blanket and cool things to swap down to Civic Park for Australia's largest Zine and Independent publishing fair. Be delighted by table after table of amazing home-grown writing, illustration, comics, zines, badges, posters and more. Kick off with the spoken word champagne breakfast at 11am. Share your skills and learn some new ones at the DIY academy. Be punished for your writing sins with the Bad Writing PinÃta of Cathartic Shame. Or just bask in the sunshine and enjoy the afternoon of free entertainment on the Zine Fair stage.
Artextart Exhibition: Far from the bleak expanse of the blank page, words are spilling from the mouths, canvases, screens and speakers of contemporary Australian art. NYWF and Electrofringe present a nation-wide exhibition of visual, installation and sound art which takes and transforms the word. Discover the madness of life in a Darwin housing commission, find desire in the erasure of old books, control your world through Braille or lose yourself in the sound of words under extreme pressure. Come explore the intersection between language and form as we highlight the vibrancy of this exciting movement in contemporary art.
Mega Mega Launch: See the Festival Club transformed into the biggest small press showcase in the Southern hemisphere – and possibly anywhere, ever! Thirty-five publications will be launched at lightning speed: upstairs, downstairs, even under the stairs. Expect champagne, giveaways and spotlight-grabbing shenanigans. Run in the style of an award ceremony, this was a rapid-fire celebration of a huge range of exciting new books from around Australia's vibrant independent and small press publishing scene. Amazing to see that many proud publishers and writers together in one place to cheer each other on.
Shooting the Messenger: Writing is a powerful expression of resistance. Presented by Sydney PEN, this discussion features authors who have experienced direct censorship. It looks at the current state of press freedom both internationally and closer to home, and what happens to dissenting voices in Australia. One of the closing sessions of the festival, this was highly anticipated and well attended, with extensive discussion from the floor. With sobering stories of direct experience from Abdul Hekmat and Mohsen Soltany Zand, plus clear analysis from Sarah Maddison, it gave excellent insight into how people have dealt with censorship in their own lives.
Radio Locus: Radio Locus is an immersive, site-specific sound project, generated through a series of recording, writing and editing workshops and broadcast via a swarm of custom-built micro-radios. Enter the field, write and record work on site, considering location through the lens of words and sounds, or the inverse. Recordings to be edited to contribute to the audio Pool and used for the Radio Locus broadcast mix.
CRACK: Melbourne's anarchic Black Lung Theatre joins twisted Sydney geniuses Brown Council, Spat+Loogie and Post with four emerging writers to fulfil a highly dubious mission: disrupt the NYWF. Expect daily attacks on the smooth running of the festival – it could be fake discussion panels, fire-alarm evacuation dances or visits from the anti-terror squad. Except it won't be. But when the volatile mix of theatre, video and sound finds you, you'll know about it. This was one of the absolute highlights – I'll post the specifics of this one on this blog.
Open Office for an Editorial Committee: Grab your elephant gun and go hunting for the elusive Open Office for an Editorial Committee. It's a herd of nomadic furniture, a portable, self-powered, open-air magazine office, manned by trusty Voiceworks staff and open to all. Submit work now for inclusion in the NYWF 07 anthology, then work in the office to help select, edit, design and print the thing. Find out what goes into making a magazine by petting one in the wild! Again, another highlight that deserves its own entry. Stay tuned!
Co-workers and partners in organisational crime: Kelly-lee Hickey, Tom Doig, Brea Acton, Laura McKay, Kelly Chandler, Rachel Morley, Andrew Morgan, Jadan Carroll, Brigitte Lewis, Tom Rigby, Ianto Ware, Kate Patterson
As well as working on curating the festival, running the organisation, sourcing its funding, overseeing its marketing and promotion and looking after a whole bunch of staff, I also built us a great big fat website. Just for something to do on the weekends!
Some more photos: search for This Is Not Art on Flickr.