Factory 7
Factory 7 was one of those things that occurs when the right mix of people, at the right time, in the right space, go 'pop'. From its humble beginnings as a giant concrete factory with a pool of mouldy water in one corner, to providing a home to some of Melbourne's most vibrant musicians, designers and artists, it was an amazing space to be a part of.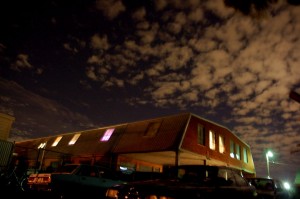 Tucked away down a laneway in East Brunswick behind the building that's now 3RRR, it was rented from an elderly Polish gentleman by a bunch of RMIT graduates, friends and family including Jim (Spoonbill) and Jack (owner of bar 303) Moynihan, Stephen Mushin and Tom Anderson. I moved in around the end of 2004 and had a studio until 2006, and was lucky enough to share the space with the likes of Nadiele Kolb and Teya Deller of fashion label Since Grey, musician, sound artist and industrial designer Jim Moynihan aka Spoonbill, film-maker and graphic designer Jonathan Chong, music video director Anto Skene, scientist and sculptor Jodie McCleery, industrial designer / puppeteer / mad inventor / educator Stephen Mushin, industrial designer, illustrator and skate guru Richard Keddell and many others. Being surrounded by that many people who were all making, doing and creating without a second thought was a pretty important experience for me, fresh off the boat from NZ that I was!
In summer we'd all sit around in our undies with fans and spray bottles. In winter you'd find us at our desks with puffer jackets, fingerless gloves and a heater clamped between our knees. As well as dozens of projects, it's played host to some legendary parties including the massive 'Factory 7 does Miami Vice', which featured a disgusting danceoff throwdown battle to the death between some of Melbourne's indy magazines. (Note for posterity: writers, editors and designers can't dance. We won because we cheated and roped in friends Anna Lumb and Marawa Ibrahim!)
It all came to an end when we rearranged the space and set up computers in the rooms that had previously been bedrooms. Jim's monitors flickered so badly he thought they were broken, bought some new ones and thought they were broken too. The shop sent them back saying there was nothing wrong with them and advised us to get the place tested for electromagnetic radiation. A guy from the power company came in, took one look at the reading and said "you guys have to move out." Radiation levels were 100 times the world health authority recommended safe limit thanks to unshielded power cables running through the slab. But because the Australian legal limit is 1000 times the recommended WHO limit, there was nothing we could do. Goodbye Factory 7 …
If any ex-F7 crew have photos or stories, let me know. I thought it'd be good to archive it!